Des cannelés juste sortis du four.
Cannelés from Bordeaux, freshly baked.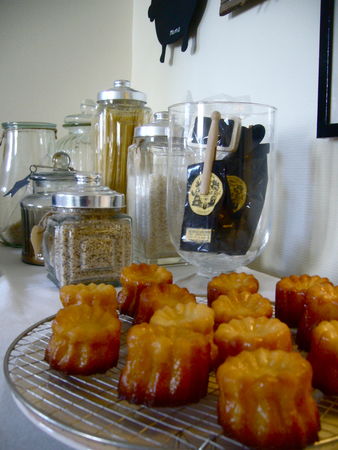 J'ai une bonne recette de cannelés.
Pour 8 grands cannelés: Il vous faut des moules à cannelés.
1/4 l de lait
25g de beurre
50g de farine
100g de sucre semoule
1 oeuf + 1 jaune d'oeuf
1/2 cuil. à café d'extrait de vanille
1/2 cuil. à soupe de rhum
1- Faire bouillir le lait et le beurre.
2- Dans un bol, mélanger la farine et le sucre semoule.
3- Battre le jaune d'oeuf et l'oeuf entier et les incorporer au mélange farine-sucre.
4- Ajouter le rhum, le mélange beurre-lait petit à petit, tout en continuant de battre avec le fouet. La pâte doit être flluide comme une pâte à crêpes.
5- Aromatiser avec l'extrait de vanille pu is éliminer les éventuels grumeaux.
6- Laisser reposer au réfrigérateur 24h.
7- Sortir la grille du four. Préchauffer votre four à 150° (th.5). Poser les moules sur la grille et les garnir de pâte. Remplir chaque compartiment aux 3/4. Mettre dans le four et à ce moment là, monter la température à 250° (th.8), au bout de 15 minutes, baisser la température à 180° (th.6) et laisser cuire 1 heure. Le cannelé doit avoir une croûte brune et un intérieur melleux.
8- Démouler dès la sortie du four et déguster froid.
Bon appétit
**********
For 8 cannelés, you will need:
A special nonstick silicone mold for 8 cannelés, that you have to put on the oven grill before filling it up.
1 cup milk
25g butter
50g flour
100g caster sugar
1 egg + 1 egg yoke
1/2 teaspoon vanilla extract
1/2 tablespoon rum
1- In a small saucepan, bring the milk and the butter to the boil. Set aside to cool to lukewarm.
2- In a bowl, whisk together the sugar and the flour.
3- In a separate bowl, whisk together the egg and the egg yoke, and whisk the egg mixture into the sugar and flour mixture.
4- Add rum, whisk in the milk and butter mixture little by little. You must get a mixture as smooth as a crêpes batter.
5- Add the vanilla extract.
6- Cover and refrigerate for 24 hours.
7- Take the oven grill out of the oven, put the cannelé molds on the grill. Preheat the oven to 150°C (300°F). Put the batter into the cannelé molds and put the grill with the molds into the oven. Immediately raise the temperature to 250°C (about 485°F). Let bake for 15 minutes and lower the temperature to 180°C (350°F). Bake for another hour.
8- Unmold and eat cold.
Bon appétit